The Boat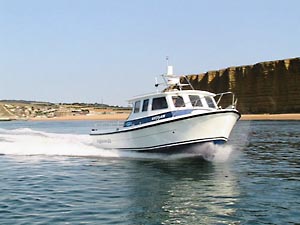 'Outlaw' is a 33' Vigilante and she is ideally situated in the port of Dartmouth - which is the perfect location for access to many of the destinations that are popular with sea anglers throughout the UK.
The vessel has been purpose-built for Angling Charter and she was manufactured to exacting Sea Fish Industry Standards in 2006 by Lyme Boats, she has a six cylinder Caterpillar 3126 engine generating 420HP.
Apart from angling boats the same Vigilante 33' hull design is also used for Pilot vessels, Customs & Excise patrol boats and also for Police launches, so her sturdiness, sea-keeping and safety characteristics are exemplary.
She has a 13' beam with a spacious clear flush deck area and can cruise effortlessly all day long at 16knts with a maximum speed just a tad over 29knts.
She has been designed with space and comfort in mind, which is reflected in the large wheelhouse with covered seating area and galley table.
She also has a separate flushing external toilet.
Outlaw is also equipped with the latest marine hardware including:
2 VHF Radios
2 GPS Receivers
Radar
AIS (automatic identification system for tracking vessels)
2 Echo Sounders
Autopilot
Ground Definition System
Stereo, Kettle and Microwave
All MCA Code of Practice safety equipment for travelling up to 60 miles from a safe haven
The Skipper
Owen Mallia the Skipper of the
Dartmouth charter boat "Outlaw"
holds a fine "Skerries" Plaice
Owen Mallia has been a keen angler since he was first able to walk and recalls how his dad used to take him as a little boy up and down the country fishing the rivers and lakes and various seaside resorts.
He still recalls his school holidays spent at his grandparent's house in Newquay, Cornwall where he worked for pocket money as 'the crew' on one of the many mackerel fishing boats that used to operate every summer.
Those early 'fishy days' obviously had a big impact on Owen, after working on commercial fishing boats for a number of years he bought his first boat at age 22 and started crabbing and netting from the port of Brixham, he eventually bought a larger crabbing vessel from a local fisherman who was retiring and after measurable success (and no sleep!) he finally progressed to skippering trawling and scalloping boats, he has been involved in the industry now for over twenty five years.
"Operating an angling boat has always been my 'ideal job', I absolutely love living and working from Dartmouth, we are in one of the most beautiful places in the world, we have superb Hotels, B&B's and Restaurants and our coastline is second to none.
Being based here is this little boys (a fisherman's) dream, its like having all of the best marks and secret hotspots literally on your doorstep, we are only a two hour steam to the famous English Channel wrecks and deep water reefs and the local Skerries sandbanks are only thirty minutes away, we are also one of the closest ports for passage to the superb Channel Island fisheries, why go anywhere else"?
Owen is a fully qualified skipper with an RYA Yacht master Offshore ticket which is commercially endorsed, he also holds all of the necessary sea survival, fire fighting, first aid and safety certificates to ensure he is able to provide anglers with a safe and sound angling experience.
"I believe my lifetime enthusiasm for all types of angling coupled with my time spent working in the commercial fishing industry has blessed me with the right temperament, awareness and attitude to help anglers really enjoy their fishing experience out at sea with me on Outlaw".
Please Contact: Owner/Skipper: Owen Mallia to arrange your own charter aboard "Outlaw"
Tel: 01803 832 897 or 07891 498 023
Email: owen@outlawcharters.co.uk